Previous events
A Bob Dylan Retrospective performed by John Meldrum
VISIONS OF JOHANNA is a retrospective of the songs of Bob Dylan conceived and performed by John Meldrum a theatrical-concert setting. John Meldrum's vocal and guitar arrangements are in no way meant to be imitations; rather they are investigations into the harmonies and melodies of Dylan's songs that bring out all the richness and subtleties contained therein.
VISIONS OF JOHANNA est une rétrospective des chansons de Bob Dylan conçues et interprétées par John Meldrum dans un cadre théâtral-concert. Les arrangements vocaux et de guitare de John Meldrum ne sont en aucun cas censés être des imitations ; ce sont plutôt des enquêtes sur les harmonies et les mélodies des chansons de Dylan qui font ressortir toute la richesse et les subtilités qu'elles contiennent.
(CEST, UTC+02) (CEST, UTC+02)
I've been working on this show for just over a year now, and I'm very excited to bring to you my visions of our greatest living songwriter Bob Dylan.
Je travaille sur ce spectacle depuis plus d'un an, et je suis très heureux de vous présenter mes visions de notre plus grand auteur-compositeur vivant, Bob Dylan.

John Meldrum

ZONGO AMBASSADORS

ZAP Music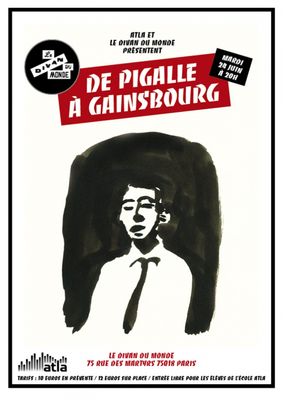 L'école ATLA présente ses élèves de niveau avancé sur la scène du Divan du Monde pour une soirée concert autour de Serge Gainsbourg. 
"Two keys, two guitars, sax, trumpet and oboe, drums and bass, four BVs, and Benoit Charron as the shameless shaman conjuring up old Gainsbarre's demons !" 
Une version théâtrale de l'opus "L'Homme à Tête de Chou", création de John Meldrum et de ses élèves : 
Drums
 : Sacha Lounis
Bass
 : Loïc "Lyön" Brom
Gibson Guitar
 : Nolan Rivetti
Fender Guitar
 : Jacques "Keuj Keuj" Mayet
Trumpet
 : Antonin Lespagnol
Saxophone
 : Quentin Dubarry
Oboe
 : Lily Jane Devries
Vocal man
 : Benoît Charron
Vocal lady
 : Anna Lindblom
Director & Keyboard
 : John Meldrum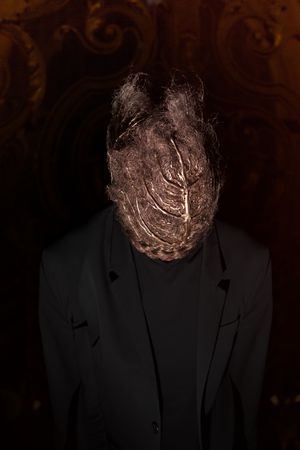 I've just looked at the video taken from a phone during this performance from two years ago, and I'm still really thrilled with this theatrical medly of a concept album from the '70's by the French icon Serge Gainsbourg.
The arrangements that we put together as a band and the phenomenal performance of Benoit Charon make for a spellbinding spectacle. The mask that was created especially for the show is a work of art in and of itself. When Ben reveals it to the rhythm of Ravel's Bolero as the horns climb chromatically up the scale to a beautifully dissonant crescendo, he uses his hands so poetically, so magestically. And finally when he screams "MARILOU!" to finish the piece, there's such a rush of energy between the artists on the stage and the audience at the Divan du Monde, a rush of love and hatred fuelled by the jealousy of the protaganist and his now defunt lover, but also truly a meeting of rock and classical, of high art and low art.  I would love to stage this work again someday!
John Meldrum June 11th, 2016.
The whole performance at Divan du Monde (June 24, 2014):