Jack l'Éventreur de Whitechapel
THE MUSICAL THAT SENDS CHILLS UP YOUR SPINE
Book: Guillaume Bouchède and Jean Franco
Music: Michel Frantz Lyrics: Julien Mouchel
Directed by Samuel Sené assisted by Elisa Ollier
Théâtre Trévise every Monday at 7:30pm and Tuesday at 9:30PM through April 11th, 2018
https://www.facebook.com/jackleventreurdewhitechapel/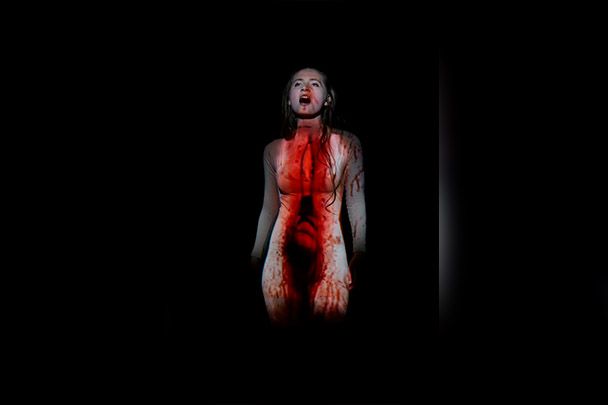 When the French have a go at the legendary Jack the Ripper story from London in the Victorian era, they are not fooling around. This 90 minute one act Musidrama production of Jack l'Éventreur de Whitechapel is a hybrid musical-thriller that holds one in suspense from beginning to end. The high points are the ensemble work of the performers on the stage and the musicians in the pit, the inventive choregraphy of Amélie Foubert and its dynamic interpretation by the company, the stand out individual performances of the singers accompanied by the subtle originality of the visual effects of Harold Simon and the lighting design of Alexandre Decain.The costumes by Zoé Imbert are equally unique with the broadsheets of the era and their shocking headlines of the events in Whitechapel printed onto to the fabrics worn by the actors. There is a lot of talent and experience on the stage of the Théâtre Trévise for Jack l'Éventreur de Whitechapel on its extended run every Monday and Tuesday night at 7:30 pm in Paris through April 10th.
              It's the fear that one feels as the story progresses into the deep and dark recesses of the lonely, sordid streets of the Whitechapel district of London in the 1880's that makes this show special. It's the same London so brillantly detailed by Oscar Wilde in his novel Dorian Gray but also in the Sweeney Todd myth that inspired so many different stage and film versions culminating in the magnificent gold standard that is Stephen Sondheim's eponymous "dark operetta".
             The Jack the Ripper story is an excellent idea for a musical, and the artistic success of this production is undeniable. After each terrifying murder, the song "La Complainte des Malheureuses" is sung as a leitmotif to underline the growing number of corpses strewn across the stage first by one ghostly "fille de joie", then two, then three and finally five, each time with the same complainte magnified in intensity with the visual effects of Harold Simon. Here, the direction of Samuel Sené is, in a word, brillant.
             In the song "Garder la Pose", Emma (Marion Cador) and Thomas (Alexandre Jérome) form the artistic heart of the show; their tender love song of how an artist and his model survive inside a sordid, bitter tale of rape and murder is nothing short of miraculous. The intimacy of this achingly beautiful scene is well served by the melodies of Michel Franzt and the lyrics of Julien Mouchel and is interpreted with grace by the handsome couple of Cador and Jérôme. Fantastic.
             If one could complain about anything, it is perhaps that Jack l'Éventreur de Whitechapel deserves to be a full-on show of two acts in two plus hours; there are themes and characters that could be more deeply developed. Notably, the character of Bonnie the keeper of the tavern as sung by the talented Sandrine Seubille deserves a longer moment in the sun. But finally the star of the show is undoubtedly the Company assembled by the Musidrama production company. In their show stopping numbers "Un Vent de Liberté", "Notre Whitechapel" and "Et Si C'était…?", the troupe puts on a bravura display of top shelf singing and disciplined ensemble movement that lead the spectator to say to friends and fans alike, "Have you heard the news? There's a ripping Jack the Ripper musical, and it's a must see at the Théâtre Trévise!"
                          By John Meldrum (performance of Monday March 12th 2018)